Exhibition Vinyl flooring supplied on 4M Roll, easy to fit, fast to deliver, we can print to vinyl flooring too.

Exhibition vinyl flooring.
Custom printed vinyl floor.
Vinyl Flooring for exhibition use and trade show events, easy to fit and fast to deliver. For your exhibition stand a variety of colours textures, woodgrains and digitally printed vinyl flooring with your own customised image. Lift the look of your temporary exhibition floor beyond that of the usual carpet and go for some stylish vinyl flooring. The big benefit of vinyl flooring is its long lasting and will serve you well for many events, just roll it back onto its core and keep for the next event.
Need another size or wish for a fitter to attend and fit your temporary vinyl flooring, ask for a quotation, 01256 768178.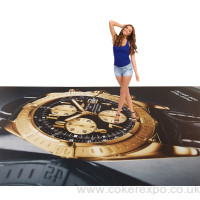 Custom printed vinyl flooring, we can digitally print any image you wish on to our quality vinyl floor covering. Bring a very eye catching floor into your exhibition environment and really stand out from all those carpeted stand areas at trade shows. Now a days you need to stand out, look a little different, well a digitally printed floor will do that. If not a full colour image a simple logo to brand your area can make all the difference. The weight for this 3mm thick lino is 1kg per sqm. The vinyl flooring has a foam backing to allow some comfort for those hours on your exhibition stand at an event. A big plus too is that printed vinyl will allow multiple use for events, unlike cord carpet. Allow 1 week in house for the printing of digital floor coverings. Supplied on a roll. Call with any questions or advice 01256 768178 ** From £40 per square metre please call or email for a quotation **
Custom printed vinyl flooring, we can digitally print any image you wish on to our quality vinyl floor covering. Bring a very eye catching floor into your exhibition environment and really stand out from all those carpeted stand areas at trade shows. Now a days you need to stand out, look a little different, well a digitally printed floor will do that. If not a full colour image a simple logo to brand your area can make all the difference. The weight for this 3mm thick lino is 1kg per sqm. The vinyl flooring has a foam backing to allow some comfort for those hours on your exhibition stand at an event. A big plus too is that printed vinyl will allow multiple use for events, unlike cord carpet. Allow 1 week in house for the printing of digital floor coverings. Supplied on a roll. Call with any questions or advice 01256 768178 ** From £40 per square metre please call or email for a quotation **